The Cbeebies Bedtime Stories segment is very popular with children and parents alike, as each episode a celebrity reads an up-and-coming picture book foor children to wind down with before bed. The series has featured books such as Smriti Prasadam-Halls's Rain Before Rainbows illustrated by David Litchfield and read by Bridgerton actor Regé-Jean Page, and our Plum Marisa Morea's book The 12 Dogs of Christmas written by Alison Ritchie and read by musician Robbie Williams.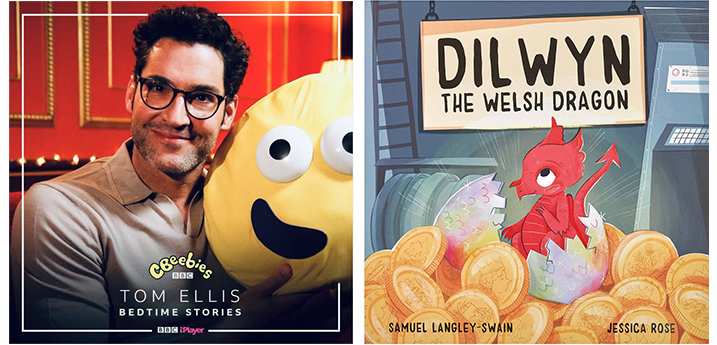 Tom Ellis is an actor known for a number of films and television shows including the hit show Lucifer and the BBC sit-com Miranda.
Our Plum Jessica Rose has illustrated a number of projects including The Unicorn and the Lost Cat written by Claire Phillip and published by Miles Kelly, and the Follow Your Feelings Series from Affirm Press, out later this year.
Dilwyn the Welsh Dragon is a roaringly fun read that tells the legendary tale of the Welsh Dragon. Dilwyn is a red dragon who hatches from a magical egg and is taken care of by the people of the valleys of Wales until he is big enough to protect the coins they make. But what happens when two robbers try to break in while Dilwyn is keeping watch high up in the rafters?
Dilwyn the Welsh Dragon is published by Owlet Press and was released November 17th 2020.
Tune in to CBeebies Bedtime Stories on May 28th and read along to Dilwyn the Welsh Dragon!
View portfolio